Join our ONLINE, LIVE ZOOM webinar for an interactive presentation with Mark Turkel, author of "Software Development Playbook". We will delve into the core principles and practical strategies that drive the success of software development initiatives. 

This engaging session is designed to empower businesses and project stakeholders with the knowledge and tools to navigate the intricacies of software projects and achieve exceptional results.
Mark will discuss important topics about the software development process, and answer any questions you have about software development.

Don't miss this opportunity to enhance your understanding of running successful software development projects!
.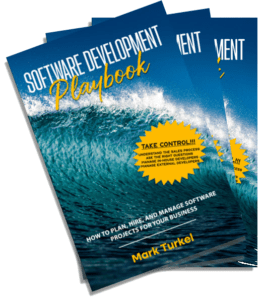 Date:
Wednesday, September 13

Time: 12pm EST
During this interactive webinar, we will cover key topics including:
Sales and Estimation Process:

Learn all about the sales and estimation process for software projects, ensuring transparency and clarity in project scoping and cost estimation.

Supporting the Development Team

: Discover how you can effectively support and empower your development team, fostering collaboration and creating an environment conducive to their success.

Understanding Business Requirements

: Master the importance of understanding and documenting business requirements accurately, enabling alignment between stakeholders and the development team.

Meeting Development Team Needs

: Gain valuable insights into the needs and expectations of your development team, empowering you to provide the necessary resources and support for a successful project.

Best Practices for Protecting Your Investment

: Explore proven best practices to safeguard your software development investment, ensuring that projects are delivered on-time, within budget, and meet your desired outcomes.