"Software Development Playbook" by Mark Turkel
Introducing "Software Development Playbook" - Your Guide to Successful Custom Software Projects for
"Non-Techies".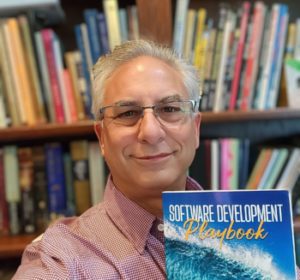 This book was written for business owners and executives (not programmers) who are considering or even in the middle of a custom software development project that will improve your company. 
As a stakeholder in the project, you want the project to be run as
efficiently
as possible. You want your software to
do exactly what you expect it to do
.  Most importantly, you want your
project done on-time and on-budget
.
DO YOU KNOW WHAT QUESTIONS TO ASK BEFORE YOU SIGN THE CONTRACT?
ARE YOU LOOKING TO SAVE MONEY BY ELIMINATING COMMON ISSUES THAT ADD UP?
DO YOU WANT A CLEAR PLAN FOR YOUR DEVELOPERS?
LEARN HOW TO RUN AN EFFICIENT TECH-MEETING
LEARN HOW TO SPEAK WITH DEVELOPERS
LEARN HOW TO GATHER REQUIREMENTS
LEARN HOW TO STAY IN CONTROL OF YOUR PROJECT