Expand Your Market Reach with Win-Cart
Enjoy seamless Wintron Electronics integration and Drop-Shipping Opportunities with Win-Cart, our advanced e-commerce solution from a reliable, 37-year old company, Palm Beach Software Design, Inc.
Our goal is to offer a professional, mainstream shopping cart with the top-level support our clients have come to expect.
No extra hidden costs and No termination fees!
There is a one-time setup fee to integrate the cart with your colors and logo for a seamless transition to your new cart.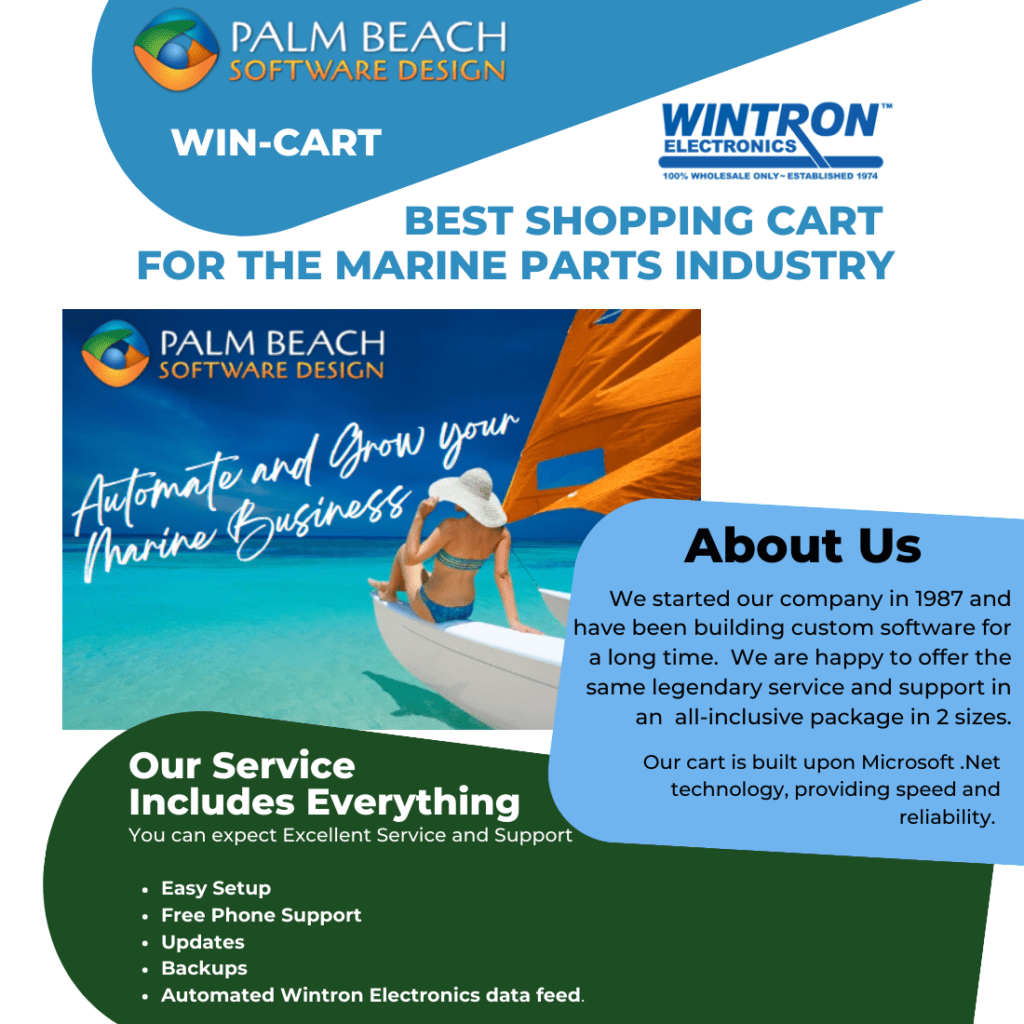 Key Benefits of Win-Cart:
Wintron Data Feed Integration: Our system will effortlessly import Wintron Electronic's inventory into your store, adding new products, and updating product counts regularly throughout the day, coupled with an automated drop-shipping arrangement that opens up new avenues for your business. (You can add your own products as well at any time, too.)
Automated Drop-Shipping Setup: When a reseller sells one of your products, Win-Cart will automatically send the order to you for drop-shipping. This seamless process ensures that you can fulfill orders efficiently without additional overhead.
Why Use Win-Cart?
Built on NOPCommerce: Win-Cart is developed on the reliable and scalable .Net-based NOPCommerce platform, ensuring a robust foundation for your e-commerce activities.
Ease of Use: Designed with user-friendliness in mind, Win-Cart ensures a smooth experience for both you and the resellers.
Enhanced Market Reach: By joining Win-Cart, your products gain visibility among a wider range of online retailers, increasing your potential sales and market presence. 
Monthly Subscription

One-Time Setup Fee $499

NIVODA Automatic Data Feed

250 Transaction / Month

10,000 Inventory Items

Includes Participating Merchant Plugins

Includes Participating Shipping Plugins

Phone Support

Email Support
Buy Now
Monthly Subscription

One-Time Setup Fee $499

NIVODA Automatic Data Feed

750 Transaction / Month

50,000 Inventory Items

Includes Participating Merchant Plugins

Includes Participating Shipping Plugins

Phone Support

Email Support
BUY NOW